What You Need to Know About COVID-19
Patients and visitors must wear masks
In the office: We screen patients for signs of COVID-19 or potential exposure. Patients showing signs of illness will be asked to schedule.


Prior to procedure: You must provide proof of your COVID-19 vaccination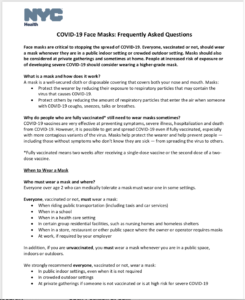 Everyone, vaccinated or not, should wear a mask whenever they are in a public indoor setting or crowded outdoor setting. Masks should also be considered at private gatherings and sometimes at home. People at increased risk of exposure or of developing severe COVID-19 should consider wearing a higher-grade mask.
---
All New Yorkers should get tested for COVID-19, whether or not you have symptoms or are at increased risk.
NYC Health Department: coronavirus disease 2019 (COVID-19)
What to Do If You Are Sick
Find the closest testing site near you.
You should get tested now if you have symptoms – regardless of age, chronic conditions or occupation – and then stay home.
COVID-19 Symptoms
People with COVID-19 have reported a wide range of symptoms. Symptoms may appear two to 14 days after exposure to the virus and commonly include:
Cough
Shortness of breath or difficulty breathing
Fever
Sore throat
New loss of taste or smell
This list is not all inclusive. Other less common symptoms have been reported, including gastrointestinal symptoms like nausea, vomiting or diarrhea. Older adults may show confusion or disorientation and experience falls.
Featured Announcements
Omicron variant
The omicron variant of the virus that causes COVID-19 is now spreading in NYC. We do not yet have reliable evidence about whether this variant is easier to spread, more likely to lead to severe illness or able to avoid antibodies from vaccines or previous infections. However, there are early signs it may have the ability to spread rapidly.
We strongly recommend everyone — including people who are vaccinated or were previously infected — wear masks in all public indoor settings.
Vaccination, masking and testing remain our most important tools in fighting this new variant of concern. Vaccines are available for anyone 5 and older, and we recommend boosters for any adult who is fully vaccinated.
Vaccine authorized for children
The Pfizer COVID-19 vaccine is now available for children ages 5 to 11. The vaccine dose for this age group is smaller than the dose given to people 12 and older.
Children can get vaccinated at their doctor's office, pharmacies and vaccine sites across the city.
Booster shots
Vaccine booster shots are now available for all fully vaccinated people 18 and older. These shots boost your immunity from an initial vaccination series.
We recommend a booster shot for any adult who received the second dose of the Pfizer or Moderna vaccine at least six months ago, or one dose of the Johnson & Johnson vaccine at least two months ago.
Your booster shot can be any of the three authorized or approved vaccines. If you are not sure whether to get a booster shot or which type of vaccine you should get for your booster, talk to your health care provider.
Vaccine incentives
New Yorkers can get $100, free tickets, memberships, or gifts for getting vaccinated against COVID-19. Learn more about vaccine incentives.
Vaccinations at home
Anyone living in the five boroughs can register to be contacted by the City to schedule an in-home vaccine.
Key to NYC
People 12 and older and now required to show proof that they have received at least one vaccine dose in order to enjoy indoor activities including dining, fitness, and entertainment. Help keep yourself and community safe. Learn more about the Key to NYC requirements.
COVID-19 NYC Data
You can find daily updates of information about people who have tested positive for COVID-19 in NYC and key public health milestones.
---